Gentle Dental has been a healthcare leader in New England for over 45 years. Founded by pioneering dentists Dr. Ron Weissman and Dr. Sam Shames, Gentle Dental was built on the principle that quality dental care should be accessible and continues with the goal of reducing the barriers that keep people from achieving optimal oral health. From the first location in Brookline, MA to the newest locations, Gentle Dental has been making personalized, multispecialty care convenient and affordable. Gentle Dental is owned by dentists who care deeply about your overall health and wellbeing. Our award-winning, highly trained dentists and specialists take a patient-first approach and address every patient's unique dental health with empathy and care. When you choose Gentle Dental, you know you are in good hands.
Our Promise to Patients
Our mission is to create healthy, confident smiles for life. We know a healthy smile is a confident one and it all starts with regular, preventative care. We welcome new patients and your comfort and care are always our top priority. Every patient's needs are unique and our dentists work with you to create a personalized treatment plan to reach your health goals. With quality care for patients of all ages, Gentle Dental's on-site specialists mean your care is both comprehensive and coordinated to achieve the best results possible.
The Gentle Dental Experience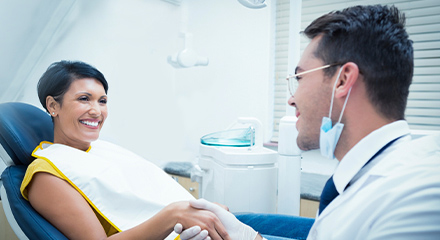 Gentle Dental is built on core values that together provide the exceptional experience our patients have come to expect
A personalized experience: Patients always feel welcome, comfortable and cared for because of our friendly and experienced staff. Enjoy peace of mind from trustworthy dentists and a focus on your unique needs.
A high quality of care: Everyone deserves the best healthcare and our award-winning dentists take pride in delivering. With a professionally trained staff, knowledgeable in the latest dental treatments and technologies, and on-site specialists in endodontists, periodontics, pedodontics, orthodontics and oral surgeon, Gentle Dental cares for all your dental needs and treat patients of all ages.
A focus on convenience: We fit into your life and remove barriers to care with night and weekend appointments, locations close to home, and financial solutions to fit your budget. Consultations are always free and new patients can get an exam, all necessary x-rays and a cleaning for just $57.We accept most insurances and work to best optimize your coverage. If you have an emergency, we are committed to same-day care. We go above and beyond to make sure you have easy access to the care you need.
Investments in Technology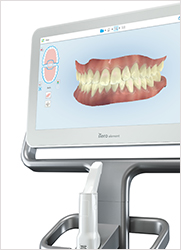 Gentle Dental offices are all-digital including safely secured patient records on a cloud-based patient management system that is protected and secure. We offer online scheduling and automated patient reminders to help you stay on track with your dental care. Gentle Dental continues to invests in technology to ensure excellence in care including:
Digital x-rays: NOMAD Intraoral and other digital x-rays utilize the latest x-ray technology to deliver high quality digital x-rays safely with up to 80% less radiation than traditional x-rays.
Intraoral cameras: Comfortable, nimble cameras that resemble an oversized pen, take high-resolution images of a patient's mouth and shows it real-time on a chair-side monitor, allowing the dentist to examine the mouth in a highly detailed manner.
CONE Beam: A dental cone beam CT scanner uses x-rays and computer-processed x-ray information to allow the dentist to take 3D images of the mouth and jaw for advanced cases and surgeries.
iTero scanner and Invisalign: iTero, the leading digital scanner from the makers of Invisalign clear aligners, scans the mouth and allows patients to see what their smile will look like with invisalign or other orthodontic treatment. Traditional dental impressions are replaced with digital images.
Laser Dentistry: Lasers are used to remove decay quickly and painlessly and prepare teeth for filings, and to reshape gums during root canal procedures.
CEREC: CEREC machines use 3D scans to produce ceramic inlays, onlays and crowns in 1 day. CEREC is available in select Gentle Dental offices.
Our TRUE Values
As a 42 North Dental supported practice we abide by TRUE values: Teamwork, Respect, Urgency, Excellence.
Inherent in these values is our commitment to providing high-quality dental care to patients of all races, religions, gender identities, sexual orientations, abilities, national origins and ethnicities. We are committed to an inclusive workforce with equal opportunities for all employees and know we are at our best when we are working together. We believe our diversity is our strength and connects us to the patients and communities we serve.
Gentle Dental and 42 North Dental
The Practice is a 42 North Dental Care, PLLC practice and is owned and operated by dentists Dr. Samuel Shames, DMD. and Dr. Ronald Weissman, DMD. The Practice is supported by 42 North Dental, LLC, a dental support organization that provides non-clinical administrative and business support services to the practice. 42 North Dental, LLC does not own or operate the dental practice or employ dentists to provide dental services. Find more information about 42NorthDental, LLC and the dental practices it supports at 42northdental.com.